Red Wings Remarkable 5-4 OT Win Over Blue Jackets; Soderblom Clinches the Game
By Derek Sheahan (

Red Wings) On Tuesday 17th October 2023 / 10:01am

In the world of NHL, each game has a potential to turn the tables, and that's exactly what we witnessed between the Detroit Red Wings and the Columbus Blue Jackets. It was an enthralling battle to remember, as the Red Wings edged past the Blue Jackets in a pulsating 5-4 overtime victory that had the fans on the edge of their seats.
Rookie Elmer Soderblom emerged as a much-needed saviour for the Red Wings as he scored the stunning overtime winner which cemented the team's victory. His performance on the ice was an epitome of agility, precision, and tactical vision. With sheer persistence and a never-say-die attitude, Soderblom displayed a game poised beyond his years.
The match started off at a high tempo, with both the teams keen to stamp their authority. Goals were traded fast as both teams showcased their best hockey, leaving spectators enthralled. It was the Red Wings who first broke the deadlock with two in the 1st period by Soderblom and Gallagher. The Blue Jackets responded in kind with 1 in the 2nd period with a Hronek goal. The game ebbed and flowed with neither team able to take a decisive step for victory in regulation time.
The Red Wings, however, upped their stakes in the final stages. They gave a brilliant display of team play, exploiting the Blue Jackets' defense and pushing their limits. The turning point came with that final, crucial goal that tilted the game heavily in favour of the Red Wings.
The OT winner from the stick of Soderblom wasn't just a goal; it was a glowing testament to the young rookie's potential. He took control of the puck in the high-pressure situation, made a clean breakaway, and skillfully maneuvered it past Blue Jackets' Gustavsson. The moment the puck hit the back of the net, an uproar of joy erupted among the Red Wing fans in attendance, as they celebrated their team's triumph.
The victory is a massive boost for the Red Wings, and the contribution of Soderblom can't be overstated. Seizing the moment and steering his team to victory, the rookie showcased why he's considered one of the most promising talents in the NHL.
In conclusion, it was a night where talent, tactics, and tenacity all came together for the Red Wings. The match was a brilliant showcase of what ice hockey is all about – exhilarating pace, skillful maneuvers, and unpredictable thrill – and its result will reverberate around the NHL world for a long time. The Red Wings, especially young Soderblom, will be flying high on confidence after this power-packed performance.
View comments (1)
Kaylen Peterson (

Golden Knights)

On 18th October / 5:44am

:

Big win for a developing Red Wings squad. Now can they do it with some consistency?
New Comment
---
P-A-T-I-E-N-C-E
By Dylan Jacob-Smith (

Panthers) On Tuesday 17th October 2023 / 7:49pm
As the season beings in the HSHL, new Florida Panthers GM Dennis Smith is pulling his inner Aaron Rodgers to the Panthers fan base just three games into the season. "8 letters here just for everybody out there in Panthers-land P-A-T-I-E-N-C-E Smith said during the weekly PODCAST on ESPN de"Oche" the "Rat's Nest". The Rat's Nest is hosted by Shooter McGavin, the teams beat writer. "Patience. We're going to be ok".
Through three games, the Panther's team stats are as follows:
GFG: 2.33 (7)
GAA: 4.00 (12)
Shots for: 32.00 Avg (96)
Shots Against: 32.00 Avg (96)
GF: 25% (2)
GA: 60% (2)
The new GM is asking the fan base to trust the process and that the team needs there fan base to get behind them to reach the moutain top and raising LORD Stanly Cup. But the fan base must trust the process that he has a plan to get them there. From this beat writer proof is in the pudding!
Panthers Beat Writer
Shooter McGavin
View comments (1)
Kaylen Peterson (

Golden Knights)

On 18th October / 5:44am

:

Love this, thanks Shooter!
New Comment
---
All In Hockey (un)Official Power Rankings - November
By Kaylen Peterson (

Golden Knights) On Sunday 27th November 2022 / 5:01pm
VEGAS - We are now two months into the season and teams are starting to define themselves as contenders and pretenders. A few teams made some big jumps (Islanders, Blackhawks, Avalanche, Lightning) and a few teams had some significant drops (Oilers, Maple Leafs, Ducks, Canucks, Kings). Some playoff races are starting to get interesting and some teams have given themselves a reason to start sweating. Two months down, four to go! Here is November's power rankings!
Rank
Team
L10
Change
Notes:
1
Islanders
9-0-1 (19)
Up 16
After struggling out of the gate, the Islanders have only lost twice in regulation since last rankings
2
Devils
9-1-0 (18)
Up 3
Devils continue to dominate the Eastern conference, taking over top-spot in the league
3
Blue Jackets
7-3-0 (14)
Up 4
Blue Jackets have been punching above their weight class all season. Can they keep it up?
4
Avalanche
7-3-0 (14)
Up 15
Don't look now, but the Avalanche might finally be relevant in the HSHL…
5
Lightning
8-0-2 (18)
Up 13
Tampa Bay hasn't lost a game in regulation in their last 10, but their wins have come against bottom-of-the-list teams.
6
Golden Knights
7-3-0 (14)
Up 2
7
Jets
5-1-4 (14)
Down 4
8
Sabres
5-2-3 (13)
Up 3
9
Blackhawks
7-3-0 (14)
Up 16
10
Wild
6-2-2 (14)
Up 4
11
Canadiens
6-2-2 (14)
Down 1
12
Hurricanes
6-4-0 (12)
Up 4
13
Senators
6-4-0 (12)
Down 9
14
Bruins
5-3-2 (12)
Down 1
15
Oilers
5-5-0 (10)
Down 14
16
Predators
5-4-1 (11)
Up 11
17
Maple Leafs
5-5-0 (10)
Down 11
18
Flames
6-4-0 (12)
Up 2
19
Coyotes
5-5-0 (10)
Up 10
20
Ducks
4-5-1 (9)
Down 18
21
Flyers
3-7-0 (6)
Down 9
22
Canucks
3-5-2 (8)
Down 13
23
Penguins
4-4-2 (10)
Down 2
24
Sharks
3-6-1 (7)
No Change
25
Blues
4-6-0 (8)
Down 3
26
Kings
3-7-0 (6)
Down 11
27
Rangers
3-6-1 (7)
Down 4
28
Stars
2-6-2 (6)
Down 2
29
Capitals
2-6-2 (6)
Down 1
30
Red Wings
4-5-1 (9)
No Change
31
Kraken
1-9-0 (2)
No Change
NR
Panthers
3-4-3 (9)
No Change
New Comment
---
All In Hockey (un)Official Power Rankings - October
By Kaylen Peterson (

Golden Knights) On Sunday 30th October 2022 / 7:28am
Rank
Team
L10
Change
Notes
1
Oilers
9-0-0 (18)
N/A
The Oilers are 9-0 to open the season, putting them in this spot was a no-brainer.
2
Ducks
7-1-0 (14)
N/A
Ducks have only lost once to open the season and have wins over cup hopefuls like the Islanders, Devils, and Golden Knights.
3
Jets
6-2-0 (12)
N/A
Jets shockingly lead the Central division after the first month of the season.
4
Senators
7-1-0 (14)
N/A
Huge wins over division rivals to take an early lead on what looks to be a very competitive division.
5
Devils
5-1-2 (12)
N/A
Devils' goalies are still stingy and it works for them, somehow they lead the division.
6
Maple Leafs
6-2-1 (13)
N/A
7
Blue Jackets
5-2-2 (12)
N/A
8
Golden Knights
7-2-0 (14)
N/A
9
Canucks
6-3-0 (12)
N/A
10
Canadiens
5-2-2 (12)
N/A
11
Sabres
5-2-1 (11)
N/A
12
Flyers
5-2-1 (11)
N/A
13
Bruins
5-4-0 (10)
N/A
14
Wild
4-4-1 (9)
N/A
15
Kings
6-4-0 (12)
N/A
16
Hurricanes
5-3-0 (10)
N/A
17
Islanders
4-4-1 (9)
N/A
18
Lightning
4-4-1 (9)
N/A
19
Avalanche
4-5-0 (9)
N/A
20
Flames
3-3-1 (7)
N/A
21
Penguins
4-5-0 (9)
N/A
22
Blues
2-5-0 (4)
N/A
23
Rangers
2-7-0 (4)
N/A
24
Sharks
3-8-0 (6)
N/A
25
Blackhawks
3-4-1 (7)
N/A
26
Stars
3-4-2 (8)
N/A
27
Predators
3-5-1 (7)
N/A
28
Capitals
2-7-0 (4)
N/A
29
Coyotes
2-4-1 (5)
N/A
30
Red Wings
0-8-0 (0)
N/A
31
Kraken
0-10-0 (0)
N/A
NR
Panthers
5-1-3 (13)
N/A
New Comment
---
Golden Knights extend Zach Hyman
By Kaylen Noga (

Golden Knights) On Wednesday 3rd November 2021 / 7:08am
VEGAS - The Vegas Golden Knights have rewarded a key offseason acquisition with a brand new 4-year extension worth just under $25 million, including a ~$2.8 million signing bonus, and an AAV of $5.555 million. "Have you seen the start Zach (Hyman) has had to the season? He's on fire. It was a no brainer to extend him," said Vegas GM Kaylen Peterson. Hyman has indeed started the year off with a bang, apparently finding chemistry with Elias Lindholm and fellow newcomer Alex Tuch. "That line has been amazing," exclaimed Jared Bednar, the Golden Knights' head coach, "they really work well together. I've wanted to try Zach on Mack's (Nathan MacKinnon) wing, but how do you break up a line that has been playing so well?"
When you look at the numbers, it is easy to see the "dilemma" coach Bednar faces. Hyman has recorded 11 goals and 25 points on the season so far, in addition to the 10 goals and 29 points he has helped Lindholm collect so far. Add in Alex Tuch's 9 goals and 16 points and you can see how a coach may struggle to break up a line that has contributed 30 goals and 70 points so far. Coach Bednar added "You know, you look at our squad and you expect guys like Nate, Osh (T.J. Oshie), and Pally (Ondrej Palat) to generate offence, and even Beast (Elias Lindholm) to an extent. When you have guys contributing that you maybe didn't expect, that's always a good thing. Teams win by having offensive depth throughout the lineup, not just being heavy up top. We have a deep group here, and you can tell the guys are enjoying playing for each other. It's always easier when you're winning."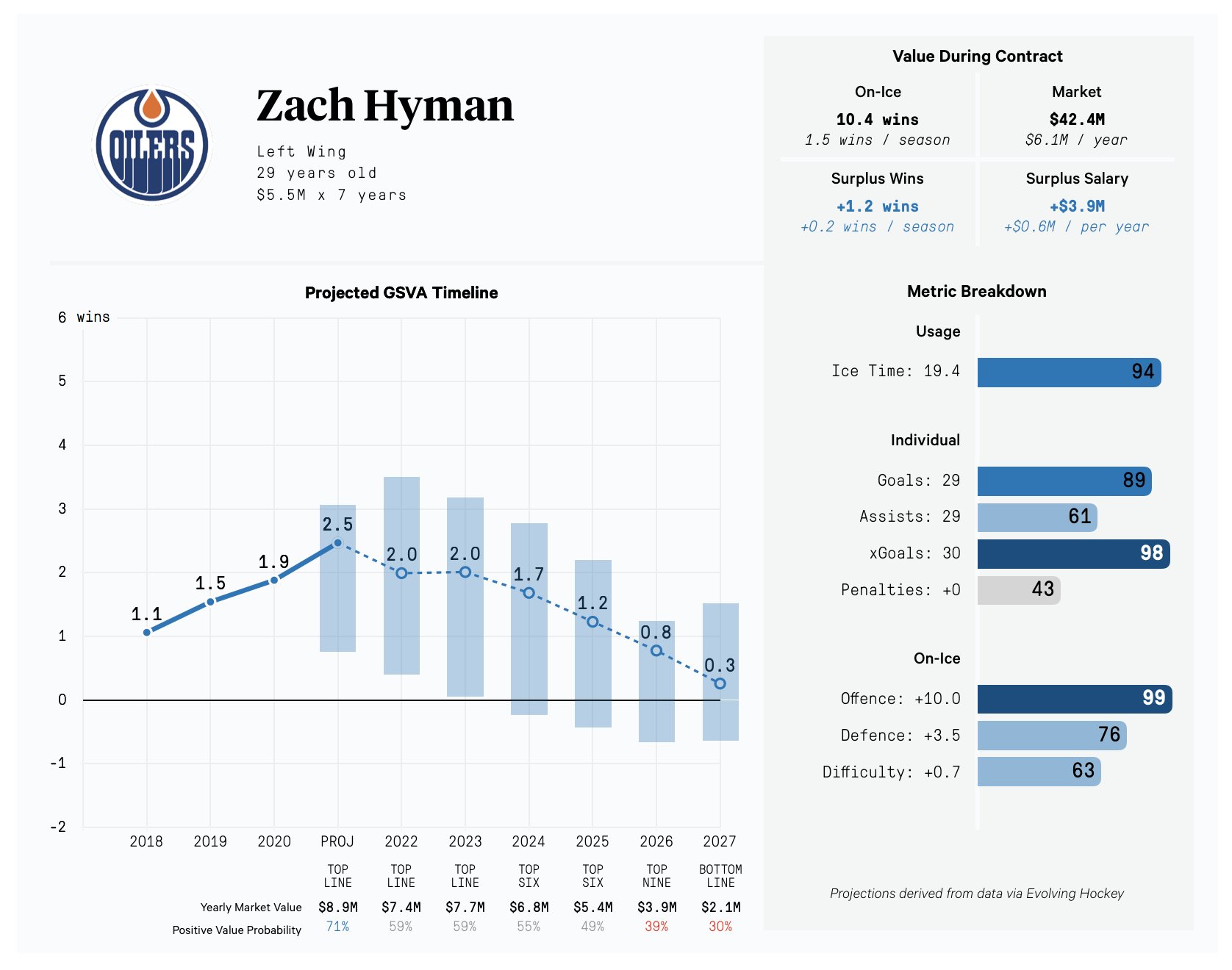 Hyman's deal should age fairly well, as this model from Dom Luszczyszyn shows. The value Hyman adds to the team is projected to be worth more than Hyman will make until the last year of his deal, where he is only projected to be worth $100,000 less than his AAV. Both sides should be very happy with this deal. For All In Hockey, this is Sandy Bunns reporting.
New Comment
---